Programs Offered at AKSA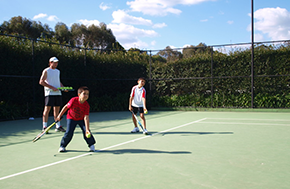 JUNIOR PROGRAM – Prepare for junior tennis tournaments at the local, regional, national and international levels. The junior program combines intensive tennis training with age-appropriate fitness training and mental conditioning.
Dynamic warm up
Mini tennis
Cross-courts
Structured fed-ball and live-ball work
Transition into the net Net game work (volleys and overheads)
Return of serve and serve
Points
Active rest throughout the session

PROFESSIONAL PROGRAM – Appropriate for those tennis players on or preparing to go on the international tennis circuit. The emphasis is on tennis tactics and strategies, as well as match play. Fitness training and mental conditioning are offered in the context of match preparation.
Dynamic warm up
Hitting up and down the middle
Side-to-side and up-and-back movement (40 minutes)
Volleys
Serves
Returns
Points
Active rest throughout the session
Sprints immediately after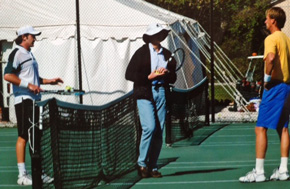 ADULT SOCIAL PROGRAM – Take your game to the next level. Begin your training by having your matchplay analysed. After your goals are discussed, a customised training and fitness plan will be designed. Compete against other players at AKSA during social nights.
Dynamic warm up
Forehands & backhands
Volleys
Footwork drills
Cross court work
Specific drills based on individual goals and abilities
Gym work
For more information on what we offer at Adam Kennedy Tennis & Sports Academy, please visit our Fitness, and Mental Conditioning pages.

CONTACT THE ADAM KENNEDY TENNIS @ SPORTS ACADEMY TO DISCUSS YOUR REQUIREMENTS